The registration, user account, and score reporting services on this website will be temporarily unavailable on Tuesday, June 2, between 7:45 a.m. and 1:00 p.m. eastern time, for system maintenance. We apologize for any inconvenience.
Portfolio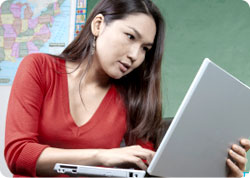 Welcome to the 2020 National Board ePortfolio website. This is the site used by National Board Certification and Renewal candidates to upload and submit materials for evaluation.
Getting Started
Registering and Uploading
Register here by following the instructions provided on-screen.
After registering, you can upload and submit your material using the ePortfolio system.
When Should I Submit?
You are encouraged to finalize and submit your material as soon as possible, so that you will have sufficient time to troubleshoot and resolve any unforeseen obstacles. As you consider your schedule and submission plan, remember to include enough time to review your materials online before submitting them to the National Board.
this table details NBPTS submission window deadlines
Program
Submission Windows
First-time and returning candidates
and
Renewal candidates
Spring Window:
April 1–June 12, 2020
Submissions due by 11:59 p.m. Central time

Fall Window:
April 1–October 16, 2020
Submissions due by 11:59 p.m. Central time
Maintenance of Certification (MOC) Pilot
April 1–June 12, 2020
Submissions due by 11:59 p.m. Central time